Why Hyperjob?
Recruitment needs a marketing makeover
In today's competitive talent market, attracting top candidates to your company is just as crucial as attracting customers to your product.
While product marketing has made tremendous strides, job marketing has fallen behind. Traditional job ads resemble those from the 1990s, and for many recruiters, "automation" means sending a pre-written message on LinkedIn.
We're here to change that.
Leveraging marketing know-how
At Hyperjob, we're modernizing recruitment by integrating proven marketing techniques into our talent attraction suite.
Conversion rate optimization
Conversion rate optimization is a well-known tool in every marketer's belt. With Hyperjob's interactive job microsites, you can boost the performance of your open roles to get more replies from hard-to-get talent.
AI assistance
AI is transforming the marketing landscape, and it's time for recruitment to follow suit. Hyperjob's AI-powered candidate profile examination tools and personalized outreach messages and job microsites help you engage more candidates while saving precious time.
Hyper-personalization
Marketers know that personalization is key to standing out in a crowded market. With Hyperjob, you can say goodbye to one-size-fits-all job posts and hello to hyper-personalized talent attraction through custom job microsites and tailored recruitment campaigns.
Data-driven insights
In marketing, understanding customer behavior is essential for success. Hyperjob offers data-driven insights into candidate behavior and engagement patterns, so you can optimize your talent acquisition strategies.
Candidate relationship management (CRM)
Just as customer relationship management (CRM) is essential for nurturing leads in the marketing world, Hyperjob empowers you to build and maintain strong relationships with candidates, keeping them engaged with your brand and enthusiastic about your job opportunities.
Smart automation
Pro marketers don't spend time on manually pasting messages to their prospects. With smart automation, you can get more time for talking to candidates.
more interviews when sourcing
up to
time saved on sourcing
more positive candidate feedback
Guidebook
From Clicks to Candidates
How marketing strategies can revolutionize your recruitment
We've gathered our experience and expertise in our ever-evolving guidebook to help fellow recruiters engage more candidates.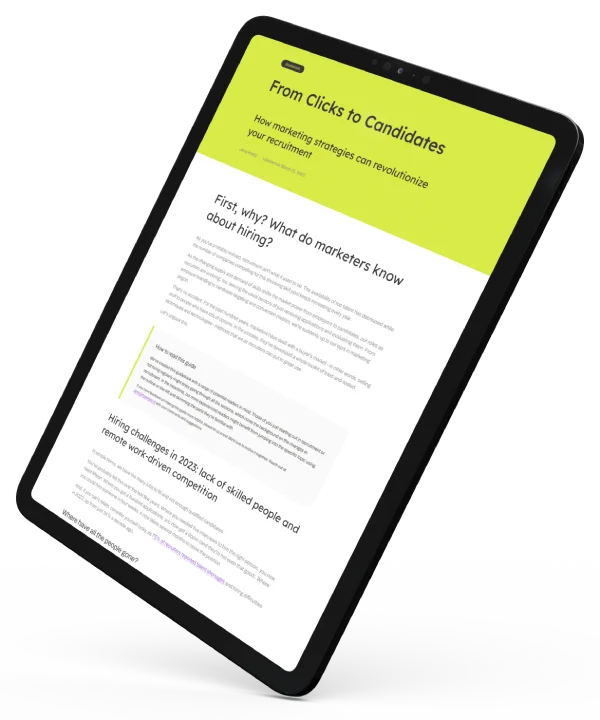 We believe in talent teams
Janis Kreilis
CEO an Co-Founder
As the talent markets become more competitive, the companies that thrive will be those that are able to attract and retain the best candidates. This shift will bring talent acquisition to the forefront of business alongside marketing and sales. At Hyperjob, we're here to help companies succeed in this new landscape.
Unlock the power of Hyperjob now.
Trusted by
Trusted by