Make
every step

in recruitment

personal

Use AI to evaluate LinkedIn profiles. Craft individual messages with AI. Replace generic job descriptions with individual job microsites. Join other high-volume recruitment teams who have saved hours on every project.
Trusted by
Trusted by
more replies when sourcing
up to
time saved on sourcing
more positive candidate feedback
Get started in 45 minutes
Boost conversion across your open roles and get immediate results in three simple steps.
1

create your company profile

15 min.

2

launch your first job microsite

30 min.

3

send your microsite to candidates
72% of candidates prefer Hyperjob to regular job descriptions.
Ready to impress your candidates too?
"Since we began using Hyperjob, we've noticed a significant bump in replies from candidates. Regular ads can be a bit boring, but Hyperjob's got this eye-catching format that has impressed both the candidates and the hiring managers."

Krists Vitols
Team lead for tech recruitment team
"With Hyperjob, we got 60% more replies and great feedback from candidates! Hyperjob also helps us maintain consistency and quality across our countless job posts.
I thought we'd done everything we could to increase our candidate conversion rate - until we started sourcing with Hyperjob!"

Claire Devine
Talent sourcer

"Hyperjob's user interface is user-friendly and helps me make boring job descriptions more visual, scannable, and appealing overall. Also, the statistics provided help me track my progress."

Laura Laimite
COO
From Clicks to Candidates
From Clicks to Candidates
We've gathered our experience and expertise in our ever-evolving guidebook to help fellow recruiters engage more candidates.
Practical tips from marketing on attraction and conversion

Tips on everything from sourcing to building your own talent pool

Includes free cheat sheets and templates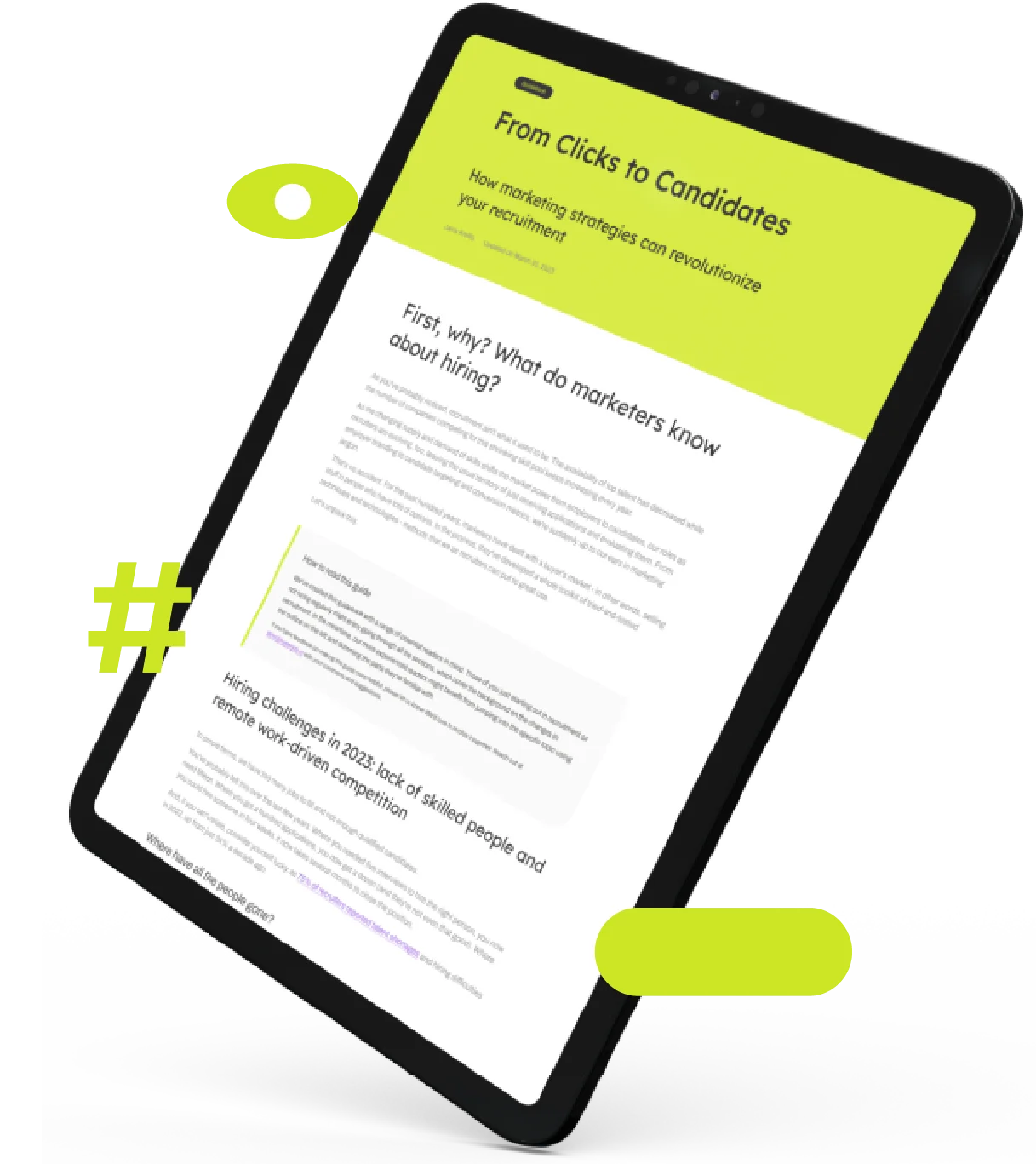 We have 40+ integrations with major applicant tracking systems (ATS), and we can also integrate with Google, Outlook, and Calendly to deliver a seamless experience.

Our professional plans start at $249/month and depend on the number of users, active job posts, and contacts in your ATS. You can start with a free trial, and if you're not ready to commit yet, you can continue on our free starter plan. Reach out to us so we can tailor a plan for your needs.

Yes, if you do a lot of outbound recruitment - Hyperjob is designed to boost the conversion of candidates in every step.

We blend outreach functionality via email and LinkedIn sequences with our unique job microsites, created specifically for showcasing your job opportunities in a format that candidates enjoy responding to.

You can get started in less than 45 minutes. Start your free trial, set up your a company profile, create your first job microsite, and start sourcing in no time. Hyperjob lives in the cloud so there's no installation or lengthy set up required.

Job microsites are Hyperjob's unique job page format for showcasing job opportunities. Each microsite features comprehensive information about the company and the position and includes multimedia. What's more, each microsite can be hyper-personalized to every candidate you're reaching out to. The result? 600% more interviews compared to regular job posts.

Yes! We offer sourcing-as-a-service to take care of finding and reaching out to candidates so you can focus on selection. Find out more on our Services page.